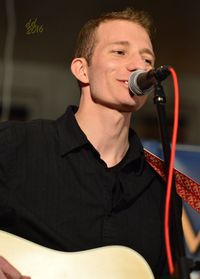 "Musical storytelling." - Appetizer Radio
"Music with a cause." - The Herald Times


Spring Owls is the stage and recording name American songwriter Jesse Lacy uses to share his down-to-earth and reflective indie folk. His slice of life and distinctly visual approach to songwriting, combined with gently polished vocals, gives his music an undeniable relatability.

Lacy released his debut album (First Steps) on the back of a successful crowdfunding campaign in 2013, coinciding with his debut East Coast tour. The album was inspired by coming-of-age nostalgia and Vincent Van Gogh's painting "First Steps, after Millet."

With collaborations from Wade Van Orman, Sam Loeck, Richard Morpurgo, Sam Bartlett, and Dane Clark, Lacy released (Pack of Dogs) in 2016. That year he embarked on several tours with Brittany Gillstrap, Mighty Brother, Lauren Pratt, Faith Evans Ruch and shared the stage with Tim Grimm, Jason Wilber, The Hollow Ends, and countless others.

After frequently touring between the release of First Steps and the end of 2016, Lacy took a two year sabbatical. In his time away, Lacy traveled, taught English in South Korea, and launched a support blog for DIY musicians.

Upon returning to his music late-2018, Lacy chose to rebrand and updated the name of his music project to Spring Owls, symbolizing the transformation. Now based in Los Angeles, California, Lacy is working on the production of new music expected to release this year.