John Batdorf is a singer-songwriter solo artist and one half of Las Vegas Rock and Roll Hall Of Famers folk-rock duo Batdorf & Rodney. He's also a successful film and TV composer, session vocalist, and inspirational musician in the substance recovery community.

In his four-decade career, he's worked with icons such as Ahmet Ertegun, David Geffen, Clive Davis, Rod Stewart, Donna Summer, Dwight Yoakum, David Lee Roth, and Mötley Crüe, plus many others. In the realm of film and TV incidental music, he's lent his voice and compositional skills to beloved shows such as Tom and Jerry Kids, Garfield and Friends, Touched By An Angel, Promised Land, and Doctor, Doctor, and Book of Days. With legendary Utah-based singer, composer, and filmmaker, Michael McLean, under, Batdorf & McLean, he's launched a unique substance abuse survival platform, and released the CD Soundtrax2Recovery. Batdorf has also released new music collaboratively with his old partner Mark Rodney and James Lee Stanley. Since 2004, he's released five solo albums on his own imprint, BATMAC MUSIC. His latest, Beep Beep, is a joyous and uplifting album that harkens back to his early inspiration of discovering music via The Beatles.
Q&A

JL: What is the story behind your song "Beep Beep"?
"Beep Beep" was the first completed song for my new CD. My wife and I were visiting Bend, Oregon in June of 2014. We were staying in a hotel and I woke up very early and didn't want to wake her so I put on headphones and turned on my computer. A few days earlier I had been working on a new idea starting off like most of my songs, with a guitar figure and then the rest just kind of came. I recorded the guitar and added a melody that came to me as I listened. Luckily, I saved it and added it to my music so I could access it while we were away from my studio in Los Angeles. As I listened to the music for some reason I thought about the Beatles and the first line came, "I got the fever back in 64, ain't felt nothin' like it since, nothin' like it before" and the song just poured out. The whole reason I took such an interest in music at all was because I saw the Beatles on the Ed Sullivan Show and freaked out! I left for California three years later and three years after that, signed with Atlantic Records at age 18. They set the bar higher than it ever was before when it came to talent, songwriting, singing, recording techniques and just about everything else they did. To this day, I use their double time percussion technique to change a song section's feel and learned all about writing a bridge from listening to their awesome records. "They changed the worlds 'cos we were all listening!!" I was so lucky to have grown up listening to this incredible band that launched so many other great bands and did indeed change the world forever.
JL: Why do you write music?
I write music because I have to. Music creates a balance in my life that keeps me sane. I believe in the power and magic of music so much that I created a project with Michael McLean, "Soundtrax2Recovery" and a website 2recovery.org It's all about the healing and recover powers of the song.


JL: How do you write a song?
I haven't quite figured out exactly how I come to write songs but I am so happy I was born with the ability to "hear" songs first and use my craft to write and record the music and share it with the world.


JL: What inspires you?
Everything inspires me. It's a beautiful world we live in and inspiration is everywhere.
JL: What are your fondest musical memories? 
Several events come to mind. I was overwhelmed as a teenager the first time I heard my band play an original of mine. Auditioning for Ahmet Ertergun at age 18 and having him sign and produce the first Batdorf and Rodney on Atlantic. Hearing my record on the radio was a rush like no other and it still affects me 45 years later. Watching and hearing my first completed score on "Promised Land" was exhilarating after all the hours of working under difficult conditions, it made the prime time CBS show and my work continued for 7 more years. Hearing XM Radio play my new and old music was so cool and last but not least, my Oscar night performance with Adele was something I could never have imagined ever doing.


JL: If you could open a set for anyone, who would it be?
Paul McCartney because without the Beatles, I would have never gone into music.


JL: Why is independent music important to you?
Being independent gives me the freedom to produce records the way I want without answering to corporate suits!


JL: What is your advice to fellow independent artists?
Find out who you are and be the best at it.


JL: When is your next release coming out?
Who knows. I released my latest CD "Beep Beep" last winter and I am working on some new songs but there is no timetable.


JL: Have anything else you want to say?
Nothing other than I have been blessed with talent, luck and opportunity my whole life and I am forever grateful. I have a great wife of 43 years, 31 year old twin sons and now two grandsons. All are healthy and a joy. Thanks to all that have supported me on this continuing magnificent ride.


Booking: johnbatdorf(AT)att(DOT)net

John Batdorf Links:
WEBSITE || FACEBOOK || TWITTER || YOUTUBE || REVERBNATION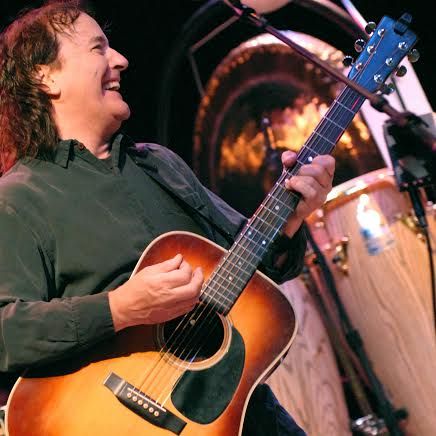 WHY NOT SHARE WITH FRIENDS?


Support the #FridayFeature by becoming a Patron: HERE or give us a Tip HERE!